Screen Share is a technology that doubles the screen of your device (mobile, tablet, PC ...) on the TV, like a remote display. This way, you can see the desktop, play your photos or watch a movie in full screen.
Because it uses a Wi-Fi Direct (Miracast or Intel Wi-Di), you can wirelessly transmit 1080p video and high quality audio. Also its range of action is much larger than, for example, Bluetooth.

To enjoy the benefits of Screen Share, it is necessary that both the TV and the device to be connected are compatible with this feature.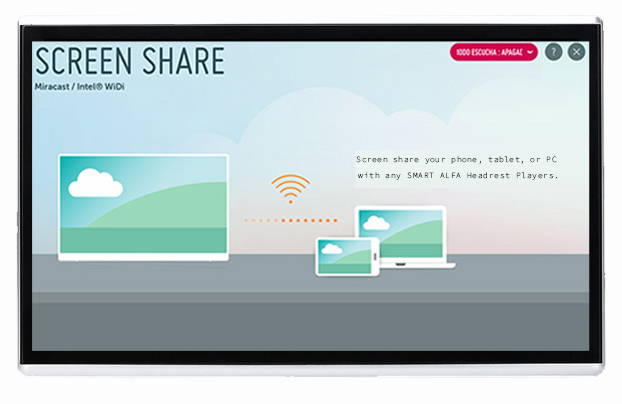 What devices can I use Screen Share with?
Android phones

: many models are compatible with Screen Share / Miracast. If your phone is, it will appear in the settings menu, we will see it in an example later.



PC with Windows 7 or 8

: your computer must have a chipset, graphics card and Wi-Fi adapter compatible with Intel Wi-Di. Follow this link to Help Portal Intel on this topic.



PC with Windows 8.1 or 10

: comes standard on the operating system. Read this guide to learn how to use it .



Linux

: There is an open source project called OpenWFD.



iOS: Unfortunately Apple does not support this technology. In its ecosystem there is the alternative airplay , but it is only compatible with their own devices. Smart Alfa Players come with a built-in Airplay to connect your IOS devices.

In these instructions we show the configuration of a Smart ALFA system androidOS. If your device has another operating system, look in the application menu Screen Share and follow the onscreen instructions.
1. Turn on Screen Share on the ALFA Player
To Turn it on: From the main screen menu please Click on SMARTLINK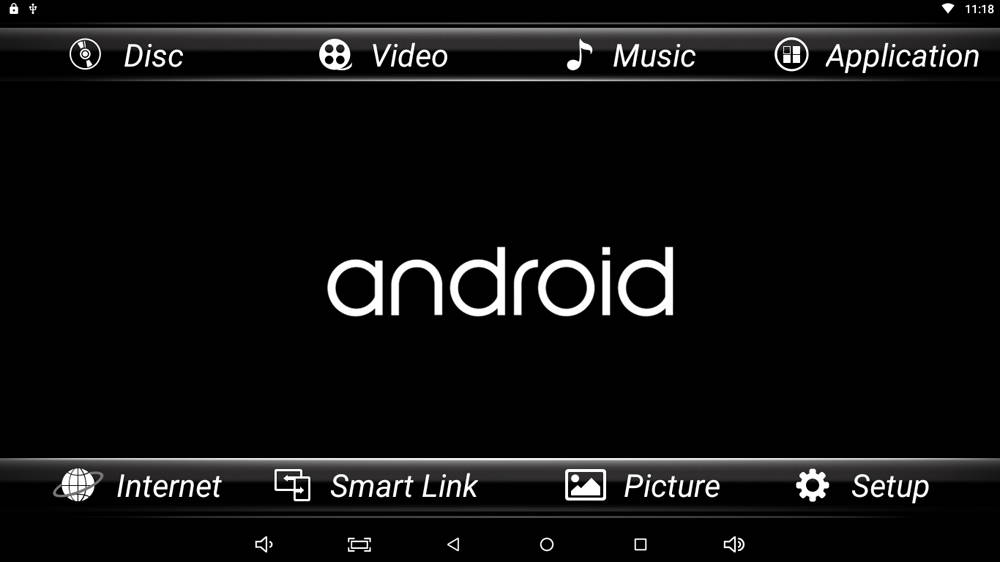 2. Activate Share Screen on the phone


Active icon Miracast or Screen Sharing (in other manufacturers may appear as Screen Mirroring, Mirroring Display or AllShare Cast). The search for compatible devices will start and a list will appear where you can choose the device to connect to.
If you do not find the check you have an icon version Android 4.2 or higher. Edit the notification panel icons to appear on the notification panel.

On the following screens we show you how to get to Miracast or Screen Sharing through the menu settings on the phone. It will allow you to force a search and see which device you are connected to. Depending on the Android version, you can slightly vary the menu.
1. In the Settings tab, Networks select Share and connect.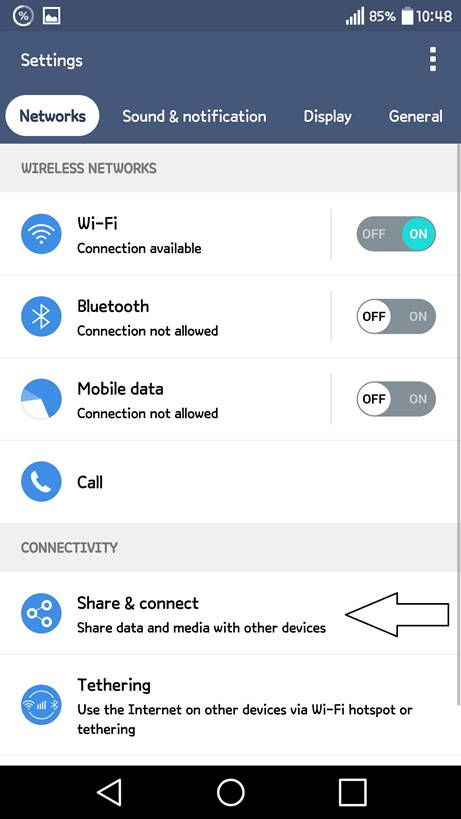 2. Activate Miracast or Screen Sharing.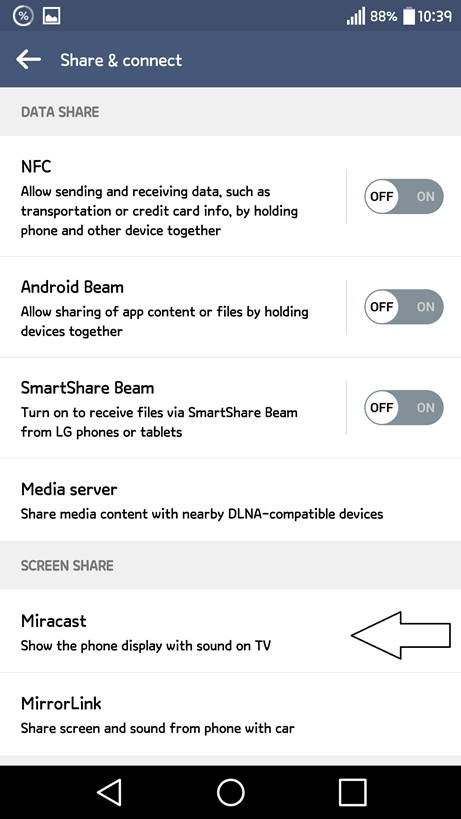 3. Select one of the detected devices from the list.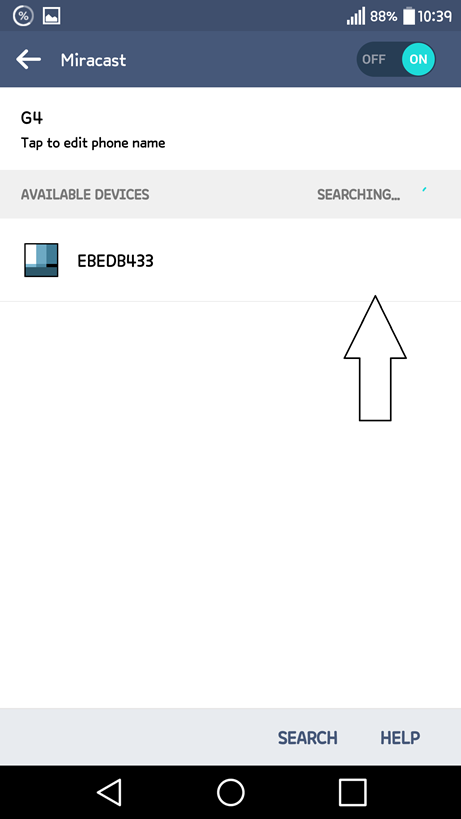 The TV will ask you a question to confirm the connection, accept and you will start to see the screen of the phone.
3. Share contents of your phone

The screen of your mobile is shown on the Player the same way it appears on the phone, on a kind of remote desktop. Everything you do on the phone will be reflected in real time on the Player.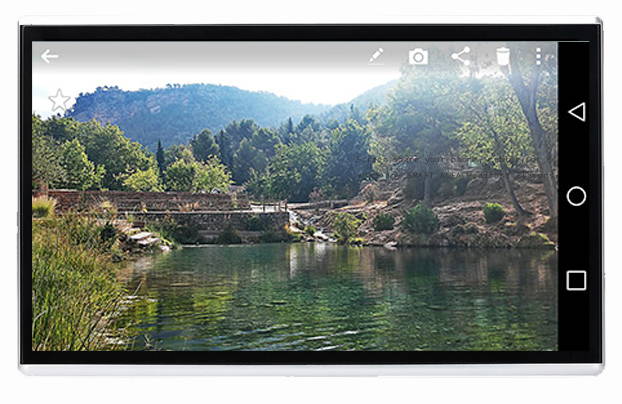 When you play a video or viewing pictures, we recommend placing the phone in landscape, this way you can watch it on the player full screen.
If you go to watch a long video like a movie, adjust the brightness of the terminal to a minimum, because the display will be on continuously (can not turn it off).
If you have an IOS device like, an iPhone, Ipad, or Mac, please check the Airplay connection section here
ALFA Support
Need information? Got a question? We can help.Whether you need to register your product, communicate with an ALFA Support Representative, or obtain repair service. Finding answers and information is easy with ALFA online service and support. Owner's Manuals, requesting a repair, software updates and warranty information are all just a click away.